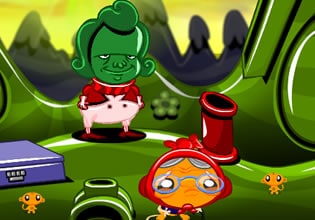 Monkey Go Happy – Stage 565
The location where stress levels from mini monkeys are coming from are in this green steamy planet with weird humanoid green beings. Most of the stuff there are green and a lot different than anywhere, but the stresses are the same and as obliged to take care of such a job which surely involves mini monkeys, the monkey operatives must respond to that.
The monkey operative who was sent is now in the place, surprisingly this world here is squishy, and yes definitely green as well as steamy for steam is coming out from the ground there. But nothing is stopping the mini monkeys there though, they are definitely around and are  starting to multiply! Escape players, because the ground is moving here the monkey operative might not be able to do the job as efficiently as they can. Want to help-out here then so that the extraction of the mini-monkeys can be done swiftly before they move too far?
Monkey Go Happy – Stage 565 is the newest point and click retrieval escape game created by Pencil Kids. This game is a continuation of the previous one as its sequel and is a part of the first game as the start of the series.
Other games by -
Walkthrough video for Monkey Go Happy – Stage 565