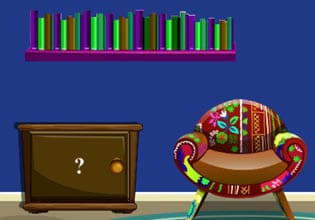 Western Bluebird House Escape
The house here which has a motif color of blue in relation to the Western bluebird is actually a house kept a secret. Wonder why they keep it a secret anyways? They just put forward the other vacant houses there in the neighborhood and never allow anybody to rent or buy it, not even approach it sometimes. As a resident there, Trent is kind of confused why though, for the place is far beautiful than the houses they put up front, well he is just a kid and he knows nothing of the place's capabilities. And that lack of information will unfortunately get him in trouble there.
Trent was kind of the adventurous type, so that day he let his curiosity get the best of him, for he entered the house without anybody's knowledge that he was going there! Trent enters and he was quite amazed for it was easy, but little did he know getting out of there won't be any easier, for that is the main reason why people don't want another renter there, that's because they all had the same complaints of being mysteriously locked in the rooms! Escape players, Trent is definitely going to experience that as well and there is nothing you can do about it, but what you can do though is to help him out of there and quickly. So will you be able to do that?
Western Bluebird House Escape is the newest point and click indoor escape game from 8b Games and Games 2 Mad.