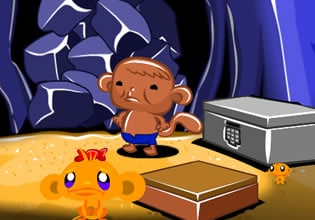 Monkey Go Happy – Stage 563
The monkeys are at it again with their stresses concerning these menacing mini-monkeys! They are lucky that the monkey operatives who specializes in gathering these mini-monkeys are still in their planet after the same mission was tasked to them there. But a different operative was sent and when he was, he saw then that the location seems to have more than one problem.
One problem is the mini-monkeys which are thankfully still very few in the place, and the second one is that one of the monkeys there are trapped in some sort of crystal! It's all thanks to those mini-monkeys, when one saw them they kind of panicked, that led to a crystallizing machine there getting tripped by the panicking operator and then zap! One of them just got crystalized. Okay then, guess the monkey operative will do a little extra here, and that is to help that crystalized monkey as a good gesture. Escape players, will you help the operative here with his two tasks?
Monkey Go Happy – Stage 563 is the newest point and click retrieval rescue escape game created by Pencil Kids. This game is a continuation of the previous one as its sequel, and is a part of the first game as the start of the series.
Other games by -
Walkthrough video for Monkey Go Happy – Stage 563