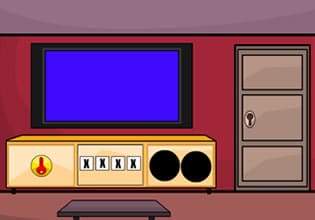 Maroon Room Escape
The maroon room, it's actually an entire house and is not really a place to simply live in, for it serves as a purpose to only bring excitement, thrills, problem-solving stuff, and escape fun! The house was created to trap people inside it and he or she should then try to escape as fast as they can for the house is learning from the challengers quickly, they should be fast enough against that so they can escape. And that day, Randy is going to try the place and see if his skill and logic can be enough for this place, well he is going to find-out that it is somewhat not decent.
Randy was in the house now and he had been tackling the challenges for a few minutes, but he seems to be not winning. Randy is going to need extra help here then and because he doesn't have any of that, he will be needing a rescue from you escape players! Okay then, will your skills and logic be enough on this to help Randy? Go ahead and try then, test your skills on this too if it's going to be enough.
Maroon Room Escape is the newest point and click indoor escape game from 8b Games and Games 2 Mad.
Other games by -
Walkthrough video for Maroon Room Escape