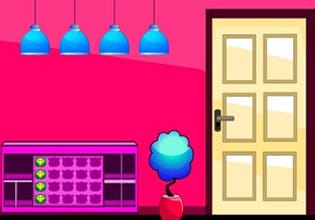 Pink Room Escape (Games 2 Mad)
This house here looks normal from the outside, but inside it's all pink there! All shades of pink were present and it kind of hurts the eyes of Diana as she checks the place. She was checking this house here for as a broker, she needs to for she has to sell this place. Looks like she might have a hard-time selling this one, for takers must be a fan of pink first or they'd really like the place to the point they're just going to repaint everything. The bottom-line for Diana was to sell the house and hopefully as soon as possible. Diana checked the place and all seems well, but then there was a problem there and she first noticed that when she tried to get out of the place.
Diana is trapped in the house for she could no longer open that front-door! She really could not get out of there for she knows the backdoor is locked. Okay, maybe she'll just have to find this key somewhere in the house which she was informed of so she can use it to get out? But the problem with that was she doesn't exactly know where it is. So escape players, will you help Diana here escape and as carefully as possible so that nothing would get damaged there?
Pink Room Escape is the newest point-and-click indoor escape game from 8b Games and Games 2 Mad.
Other games by -
Walkthrough video for Pink Room Escape (Games 2 Mad)