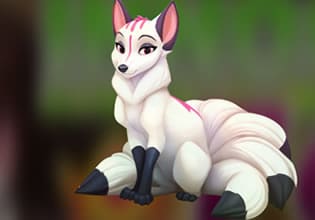 Innocent Fox Escape
People there in the village are not too easy with the creatures that are coming from the nearby forest, for most of them are not really natural, more like magical for their appearances looked different and somewhat strange, they also have a weird aura and that makes the people there think more of them as such. As a person who knows this for she is a resident there, Aria was uneasy of them as well except for this one thing though, and that was this white fox which had multiple tails.
Aria sees this creature at times when she does her chores there, it is often an innocent encounter and a magical one even, but that day though Aria will be seeing this fascinating creature again and it's not going to be the same as before. Aria passed by this house and there she found the white fox! Aria was very confused why the creature was in there, but it was not calm though and that's why she thought of getting it out of there for it is most likely trapped. Escape players, Aria is not an expert in breaking into homes here to do a rescue and that's even so when the house here is not really occupied. Will you help her then so she can get this mysterious creature out?
Innocent Fox Escape is a brand new point and click animal rescue escape game released by Games 4 King.
Other games by -
Walkthrough video for Innocent Fox Escape