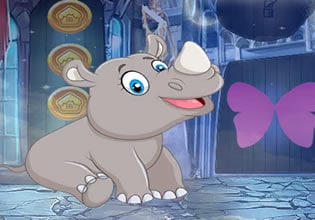 Lovable Infant Rhino Escape
There is a fascinating small rhino roaming around the village and the people recognizes it as a gentle animal and one with the community. They can't say so though when it grows for it might get a little dangerous. As the owner of the rhino, Edwin will make sure that it will be safe to be with it as long as it sees people everyday. Maybe giving trust to the animal will also give its trust to everyone. That day though, that trust will be tested, well at least for Edwin and his pet baby rhino, for that thing got into some trouble!
Edwin tried to find his rhino that day, he knows it won't be difficult for that thing is hard to miss and their village here is not too wide. After a few minutes he found it thankfully, but the creature was trapped in a house though and is clearly struggling to get out! There was a ruckus inside the house and for Edwin that is already no good, for he is really going to pay for the damages there. Escape players, Edwin will try his best in rescuing his rhino here so it can roam free once again, will you be able to help as well so that can be done and safely too?
Lovable Infant Rhino Escape is a new outdoors animal rescue escape game developed by Games 4 King.
Other games by -
Walkthrough video for Lovable Infant Rhino Escape