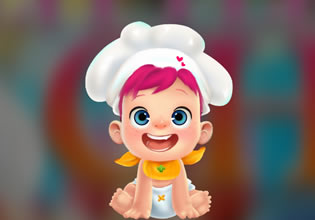 Little Chef Escape
The town's restaurant here has some exquisite taste, well the chef is really good and he is joyous too for most people thinks his food as so. That chef is Augustus and he is humbly serving customers in the town or out of the town in his restaurant warmly, but one would not know Augustus has a little secret though and it's a pretty important one. For one of his assistants is not a usual one and half the time this assistant is responsible for making his food heavenly. But at the moment, Augustus is trying to rescue him for he is currently trapped.
Chef Augustus' assistant is a very young chef! By young, that means very young, but even so this kid can really cook and he is the reason why some of the foods he is not able to perfectly make can be done in the restaurant. But that day, he cannot operate at full-swing without this assistant of his, and he needs help for he is trapped. Escape players, would you like to help then so that the rescue for this important partner of Augustus can be done?
Little Chef Escape is a brand new point-and-click rescue escape game from Games 4 King.
Other games by -
Walkthrough video for Little Chef Escape