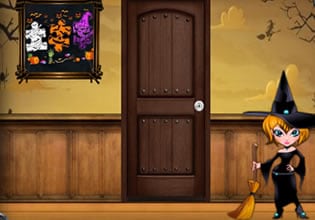 Halloween Room Escape 22
Guess the witch have really learned how to carefully play her cards with her victims, for she had once again pulled an illusion and this time to Jackson whom is her current victim! Jackson definitely got frustrated with this for he was able to escape, but now he is back again. He really attacked the witch after but because he was mortal, his person couldn't even put a dent on her. Okay then, guess he really doesn't have a choice anymore but to defeat her in ways of the mind and skill.
Escape players, Jackson is going to continue in escaping, he needs to do something to outsmart her for he thought that is the only way right-now if he can't defeat her in ways by confronting her. Will you be able to help once more then so that Jackson can be freed from this trouble here which he have no idea even why the witch chose him?
Halloween Room Escape 22 is a brand new point and click indoor escape game released by Amgel Escape. This game is a continuation of the previous one as its sequel, and is a part of the first game as the start of the series.
Other games by -
Walkthrough video for Halloween Room Escape 22