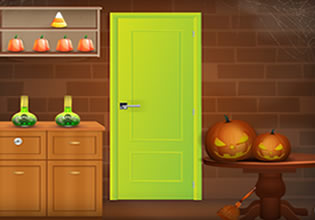 Halloween Room Escape (Amgel Escape)
Upon reading your friend's message, you knew something was off. You're very close when you're physically together. However, you can act as strangers when you're apart. You rarely message her and she does the same to you. You even forget her birthday and you don't greet her as well. If people don't know the two of you, they may think that you're just being plastic with each other. Sometimes you kind of feel that way too. But all of these just disappear when you're together again. Usually, she would message to meet you and offer to fetch you from your home. She knows your parents may let you out easily but their minds are wondering about who you'll hang out with. So to give them peace of mind, she would make sure to ask for permission herself. She even calls your parents "Mom" and "Dad".
But this time, instead of going to your house, she just asked you to be in a place. It's quite weird but you still follow along. It's been years since you last met here. The place she has in mind is a Halloween room. You don't remember her being a fan of spooky stuffs. Play Halloween Room Escape (Amgel Escape) room escape game by Amgel Escape.
Other games by -
Walkthrough video for Halloween Room Escape (Amgel Escape)