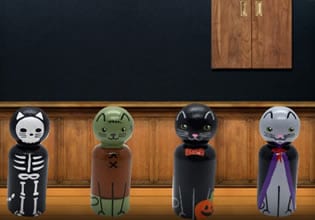 Halloween Room Escape 24
Just like the others, Jackson was able to escape as well! Thankfully if it wasn't for you escape players he wouldn't have been able to for the witch was quite winning there. After Jackson's escape but for real this time, the witch disappeared immediately. She had moved-on to another place and once again to terrorize another victim with her illusions and challenges. The witch just moved next door for there was another person there who was currently alone in their home.
This time, the witch will be challenging Portia who was alone in her house! But little did the witch know she was already ready for her for she had been getting these information that this witch had been toying with the people there with her challenges and stuff, but the problem was she might have a really difficult one here for she was told that the witch was also growing in skill as time passes. Escape players, Portia is ready now but she doesn't know how ready will she be. Will you help her here then so she can get this done quickly?
Halloween Room Escape 24 is the newest point and click indoor escape game created by Amgel Escape. This game is a continuation of the previous one as its sequel, and is a part of the first game as the start of the series.
Other games by -
Walkthrough video for Halloween Room Escape 24