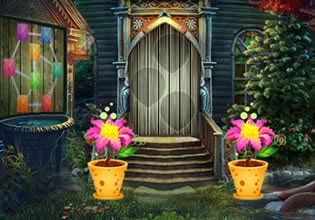 Dainty Sparrow Escape
From all the sparrows out there, one is very valuable to Deuce, well that's because that sparrow has a message in its foot and that missive is downright important for the welfare of the town they live in! That's why Deuce is hectic at the moment, for that bird is missing and it had been hours now when it's suppose to arrive. Okay then, Deuce is going to do some extensive search here and it's a good thing he did, for he will find-out that this sparrow is actually trapped!
In his all-out search around the town, Deuce finally finds the bird and unfortunately, it's in a trap! This is not good for there is a rule in the town that nobody should touch anybody's traps there and because nobody really knows about that important message here, they wouldn't understand why he needs that sparrow of his back now! Escape players, Deuce cannot do this alone for he is not fast enough when it comes to rescues, will you help him on this rescue for the sparrow then before that bird and together with its important message will be gone forever?
Dainty Sparrow Escape is another new point and click animal rescue escape game made by Palani Games.
Other games by -
Walkthrough video for Dainty Sparrow Escape