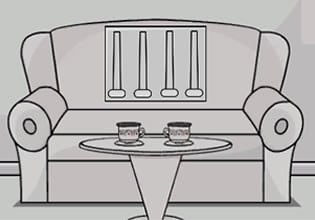 Escape From Black And White Domicile House
Another escape house have been erected in the neighborhood and this time they called it the black and white domicile. It is another place with a unique challenge and one must once again solve puzzles and gather items in there in-order to escape. Matilda will be the challenger there that day, in-fact she is one among many but the difference with her and them here is she is going to be first in line!
Matilda have taken some of the escape houses built there before, the challenges just get tougher and tougher, and that day she expects it to be even more difficult than the last one. Well it will be, for the interior of the house have no color at all except black and white hence what's it called. Okay now this is their tactic, but Matilda thought she can solve it still and no matter what the color an escape house has, or so she thought. Escape players, Matilda is now in the middle of the house confused and unable to truly find anything substantial there, okay guess she was wrong so, will you help her? If so then be ready, for your skills here will be tested as well.
Escape From Black And White Domicile House is the newest point and click indoor escape game from Games 2 Jolly.
Other games by -
Walkthrough video for Escape From Black And White Domicile House