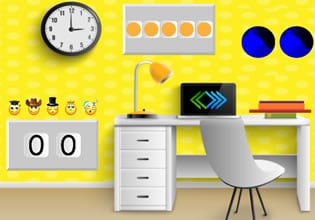 Color Room Escape 1
Cyril was not looking for a luxurious house that day to rent, just a decent place with decent stuff, just enough that he would survive in it and is good enough that he can invite family and friends over. That day, Cyril found what he had been looking for and as he looked around the place's rooms, it just gives him more reasons to take it. Maybe he'll give that call now but first, he'll get himself out of the place so that the signal will be good. But then when he tried to do so, he couldn't get outside of the house!
Cyril have no idea what happened, but the door seems to be jammed here and he cannot get himself out. Okay, is this the only flaw of the place? Well if it is then this is still not enough to sway him from it, for he can fix a problem such as this. First he needs to escape though and he couldn't damage anything there as he will. Escape players, will you be able to help him here so he wouldn't and he can get out safely?
Color Room Escape 1 is a brand new point and click indoor escape game from Games 2 Escape.
Other games by -
Walkthrough video for Color Room Escape 1