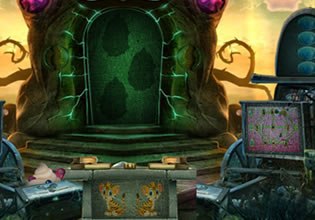 Comely Little Monster Escape
Monsters and humans are happily living in the village here, the young monsters and the children are even happily playing together everyday. As a human resident, Elmer can see the harmony of everything there and that's good. He wishes that it would always be like this and he is doing his best to keep it that way too by contributing well to the community. And that day such of his will be tested, for Elmer found one of the young monsters there trapped in an unoccupied house!
Elmer saw him and at first he backed up for he thought the creature was an adult, some of the adult monsters are kind of cranky and do not want to be helped, but it was a young one so he definitely acted to help him. Escape players, Elmer needs assistance here as well for he is having a hard time opening the door where the monster is trapped. Want to help him then so the young one can be safely led out?
Comely Little Monster Escape is a brand new point-and-click rescue escape game from Games 4 King.
Other games by -
Walkthrough video for Comely Little Monster Escape