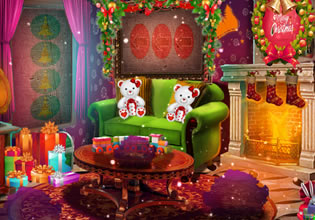 Christmas Little Girl Escape
It's Christmas and the children there in the village will now be having a presentation for the people there. They do this yearly and it's wholesome. Sarah will be watching the presentation as well for her son will be in it too. But as she was about to proceed to the venue, she found one of the children and she is trapped in a house there!
Sarah was definitely concerned when she found the girl who was already dressed-up for the presentation. The kid got curious of the place as she passed-by it she said, but then when she entered it the door behind her shut and she couldn't open the thing! Thankfully Sarah is here now, but she too couldn't open the door and get the youngster out. Escape players, this is now your time here, would you like to help Sarah so that the young girl can be freed?
Christmas Little Girl Escape is a brand new point-and-click rescue escape game released by Games 4 King.
Other games by -
Walkthrough video for Christmas Little Girl Escape