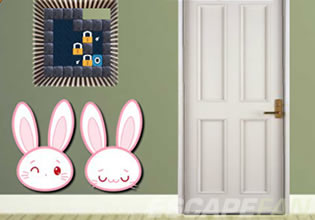 Bunny Escape (8b Games)
Truman is heading to his friend's home for he has a new pet bunny and that's actually pretty new, for he was more of a cat and dog person and nothing else. Good though, he is venturing into a different hobby. Wonder what kind of rabbit he adopted? Truman asked himself. As he arrived at the house though, there was an issue there and his friend needs a little help.
His friend's rabbit is trapped in a room there and he couldn't open the door! Truman did not expect this, but his friend looked concerned though so he definitely needs to help here. Escape players, come and play as Truman on this as he helps his friend free his new pet. Will you be able to find things to manipulate the door there to open?
Bunny Escape is the newest point-and-click indoor pet rescue escape game from 8b Games.
Other games by -
Walkthrough video for Bunny Escape (8b Games)