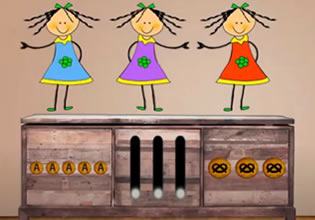 Find Bunny Doll
Frances have just arrived in her friend Cathy's house so they can chit-chat and spend the rest of the day relaxing, but as she checked on Cathy though, she found her trying to find something and her daughter does not look too happy.
Frances asked her friend what was up, and that's when she knew that her daughter was asking help from her mom for her bunny doll is locked in this room, Cathy is getting-on to it now and is finding the key. Frances thought, oh well, she might as well help here for Cathy won't be in her relaxed state until this task is done. Escape players, you will now be playing as Frances here, will you be able to help find the key so that ultimately Cathy's daughter can have her doll?
Find Bunny Doll is a brand new point-and-click indoor item retrieval game released by 8B Games.
Other games by -
Walkthrough video for Find Bunny Doll