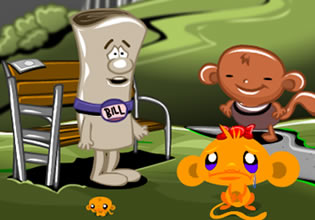 Monkey Go Happy – Stage 647
The monkey operatives are now being called to a different dimension here and it's in a place where normal monkeys and humans live in one planet! It's weird for in a different plane of reality, these two beings are living far apart in the universe and each located in a different galaxy. But this is another dimension though and this is their reality.
Monkey operatives HQ have sent theirs to the said place and the location was in some sort of governmental grounds. There are mini-monkeys there as the operatives saw and he expects that for those little things is the reason why he is there. But there were extra problems with the residents there though which had been caused by the mini-monkeys, and as a new directive from HQ, they ordered to help on the damages those mini-monkeys created, so the operative that's there will of course follow that. Escape players, every operative has a lot more to do now on this widespread problem they are solving, but they will have help though and that is from you. Will you be able to assist with the operative here so he can do his job and then some?
Monkey Go Happy – Stage 647 is the newest point-and-click retrieval escape game created by Pencil Kids. This game is a continuation of the previous one as its sequel, and is a part of the first one as the start of the series.
Other games by -
Walkthrough video for Monkey Go Happy – Stage 647