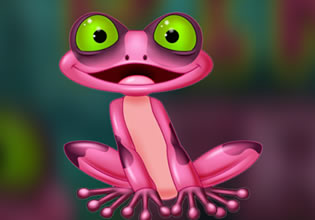 Pink Frog Escape
There are a few pink frogs here that roams around the outside of the village, but the place is being cordoned though so that they can't enter for not only they are fascinatingly huge, but also quite toxic. Occasionally, a few of them can make their way into the village and that is when the traps that are scattered across the place will be of use, they capture the intruding pink frogs before they cause a dangerous consequence to someone.
Escape players, you are on the task now for you found a pink frog inside a trap. They managed to get in again and now you should get it out and return it to the forest outside. Okay then, will you be able to get this task done so that this toxic frog can return to where it belongs? Delicately with this then, for you don't want to have a taste of that frog's deadly concoction.
Pink Frog Escape is a brand new point-and-click animal escape game from Games 4 King.
Other games by -
Walkthrough video for Pink Frog Escape