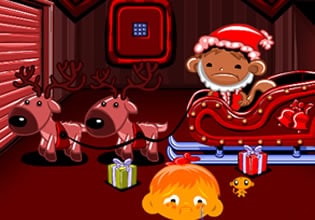 Monkey Go Happy – Stage 589
In monkey planet, there is also Christmas! but their customs there are different though well just slightly, and they really bring Santa to life there! Even Santa exists in the said place. For the monkeys however, they have already built anti-gravity machines there and that's why flying sleighs exists in the planet. At the moment there is one monkey who was about to leave for he will not only put-up a show to the nearby residents in the area, he will also give gifts to his family there. But at the moment he is having some problem though and he is releasing some stress-levels which was thankfully detected by the monkey operatives.
Once again the mini-monkeys are out terrorizing someone and this time it's this monkey who will be riding his flying sleigh playing as Santa! The monkey operatives HQ have already sent an operative to the place and yes, there were definitely mini-monkeys there and it's even stopping him to leave! Escape players, want to help the monkey operative here as he will be collecting those mini things so that Santa here can finally leave?
Monkey Go Happy – Stage 589 is the newest point and click retrieval escape game created by Pencil Kids. This game is a continuation of the previous one as its sequel, and is a part of the first game as the start of the series.
Other games by -
Walkthrough video for Monkey Go Happy – Stage 589