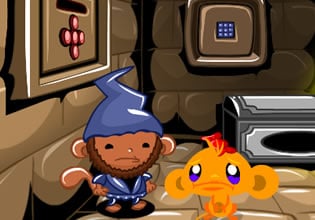 Monkey Go Happy – Stage 605
The monkey elf town, it is a place located on monkey planet but the interesting thing about this though is it only exists in the past! Well, the monkey operatives can travel through time so when a beacon there detected the stress signals, it immediately sent a signal back wherever HQ is through time and space. Now the monkey operative that had been sent has finally arrived, he sees that the place is near an active volcano and at the moment the residents there in the town are trying to escape for things are starting to rumble, but some of them couldn't for they are stressing on these scattered mini monkeys!
These are now the reasons why they are stressing, that's why this problem with the mini monkeys needs to be solved so that escaping from the town can be smooth. Escape players, now the monkey operatives' job begins and that is to retrieve mini monkeys there so that they won't bother the residents. Will you be of help here while there is still a chance to escape?
Monkey Go Happy – Stage 605 is the newest point and click retrieval escape game created by Pencil Kids. This game is a continuation of the previous one as its sequel, and is a part of the first game as the start of the series.
Other games by -
Walkthrough video for Monkey Go Happy – Stage 605