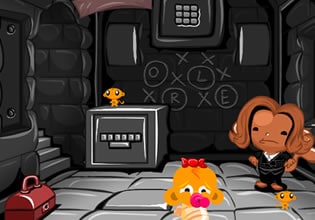 Monkey Go Happy – Stage 581
There is another signal coming from across the galaxy, this time it's in another place other than the planet of the cousins of the monkey operatives. The current place which were having some problems with them mini-monkeys was Earth once again! And this time the exact place was in an asylum! Really? An asylum? The money operatives had to verify that for they'll never know if these stresses are legit or not. Well as they tried to find-out, it was indeed real and the mini-monkeys are really making themselves known there.
These mini-monkeys are making the place extra crazy! The ones that have serious mental disabilities there are starting to become erratic and the others are becoming hostile. Okay now this must be dealt with soon for this can definitely escalate if this goes too long and the mini-monkeys multiplies. Escape players, a monkey operative have already been sent there and well even though it was very capable for this mission, it still needs help so that this can be done quickly. Will you help-out on this and see this task done in a jiff?
Monkey Go Happy – Stage 581 is the newest point and click retrieval escape game created by Pencil Kids. This game is a continuation of the previous one as its sequel, and is a part of the first game as the start of the series.
Other games by -
Walkthrough video for Monkey Go Happy – Stage 581