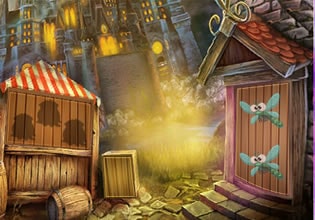 Ambrosial Thumb Ice Cream Escape
The village is now joyous all around, why is that so? Well that's because the resident mage let loose a bunch of fun and magical creatures which really gave everyone some fun time! Everyone deserves it, for they had been through a lot lately and he thought this can help remove the bitterness due to what had happened and bring back the joys of the place. As a resident of the village, Darwin absolutely loves what the mage has done, he most especially likes this thumb ice cream for the magical creature just gives ice cream non-stop! Soon Darwin will be filled with ice cream here and really he should stop. Well, the ice cream stopped for him though, for something happened to it!
This ice cream creature just got trapped in a house there and now it is asking Darwin's help! He has no idea what happened and he was about to call the mage for help. But as he sees the situation, he decided to help his friend through his own strength. Now how is Darwin going to rescue his friend here? Escape players, would you like to help? For Darwin is just a kid and even though his mind was wide of ideas, his strength does not meet the requirements to do such. Maybe you can help him?
Ambrosial Thumb Ice Cream Escape is the newest point and click house rescue escape game created by Games 4 King.
Other games by -
Walkthrough video for Ambrosial Thumb Ice Cream Escape