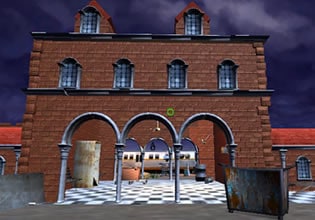 Abandoned Station 3D
This station here has a lot of purposes back in its days, but now it is abandoned and it stands quiet. The station once had a train stop, snack bar, thrift stores, and even a portion as a police station with a small detention cell. It's basically a powerhouse of a building, but nowadays people goes there only for adventures for the place is quite a great one to traverse into. That day Harold was in there for he was on that adventure and he hopes to find something interesting there, he will indeed find something but unfortunately it is not really preferable.
Harold got lost in the place and it's not preferable for he also expected this kind of thing to happen, it just gets his adrenaline pumping, but still he really needs to find his way out of there for the risk of getting in some real danger there is quite high and he doesn't want to get in on such. Escape players, Harold needs to escape from the place and for this case, the entire area for now. Come and help him then so he can safely make his way out of there.
Abandoned Station 3D is the newest point and click complex escape game from Nsr Games.
Other games by -
Walkthrough video for Abandoned Station 3D