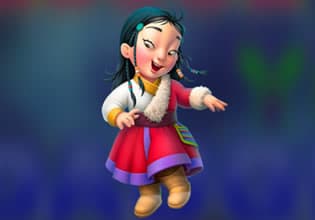 Rescue My Young Daughter
Yuan's daughter is very restless, she likes to frolic around and be curious of about everything. That day though her curiosity is going to get her in danger, for when she took a look at this new place in the neighborhood which was open, something triggered and she got trapped in there! Yuan did not hear from her daughter for hours and at that moment she only noticed that for she was very busy. Yuan quickly tried to find her daughter for even though she roams around everyday, this is already an unusual happening.
In Yuan's search she eventually found her, but as stated she was in this new place that she entered and she was trying to get out! Yuan's daughter was very happy when she saw her, Yuan on the other hand had a mix of anger, concern, happiness, and relief. As she saw this situation though, she thought this might be the traps the people there have been talking about, it's for bears who accidentally gets in the area, but it seems her daughter found this thing first. Yuan needs to free her daughter there now and delicately for she might get hurt in the process. Escape players, want to help so that this young girl here can be freed safely?
Rescue My Young Daughter is a brand new point and click rescue escape game from Games 4 King.
Other games by -
Walkthrough video for Rescue My Young Daughter