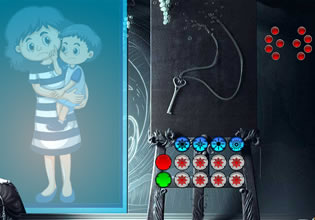 Witch Child Their Dragon Escape
Jin's wife is actually secretly a witch but a good one, they have a child and a protector dragon and that makes their family. One day, Jin was greeted by a subliminal message coming from his wife, she told him that they need help for they are trapped in this mystical place at the moment together with their child as well as their protector dragon!
Jin's wife is pretty adventurous and she often gets herself in trouble, she can get herself out of it as well. But this time she mentioned about their child too and that was enough to make Jin move to the rescue. Escape players, Jin is not really a magical one for he is just normal, that's why he needs help on this rescue into a place filled with magic so, will you come with him and help him?
Witch Child Their Dragon Escape is the newest point-and-click rescue escape game from WoW Escape.
Other games by -
Walkthrough video for Witch Child Their Dragon Escape