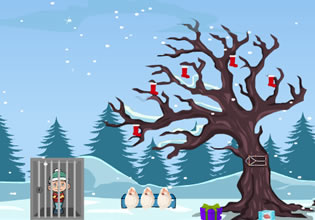 Winter House Escape (Games 4 Escape)
Winter is your favorite season. This is the perfect time to just stay in your house and in front of the fireplace. That thing relaxes and soothes you. With that, you stayed in your house and got ready to light the fireplace. However, you realized that you don't have enough wood blocks. You have to gather some on your garden. But the thing is, the door in your winter house won't open. You can't light up the fireplace without wood. So, you have to move and look for a way to escape from the room. Thankfully, there are clues in the room that can help you to solve the puzzle. There are also items that you can use to unlock the door. However, those things are not in obvious places so you have to look for those.
Another thing that you have to do is to use your logic. That is the most important thing that you need to do, Without your logic, you can't go out of your winter house. It's getting colder so you have to get wood as soon as possible. Winter House Escape is the newest outdoor escape game by Games 4 Escape. Best of luck!