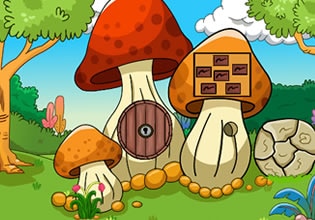 White Goose Escape
There is a white goose which just roams around the house and it's just there living as it is and Vincent loves it. He lives in the forest near the lake and he did everything that he can to survive there, like putting-up water sills, setting fishing and land traps, everything was good. But little did he know that in the future one of his structures will trap that white goose and unfortunately, that future is actually that day!
Vincent went-out of his home once again for he was on to his daily chores and all, but as he checks in one of his built structures there to find the tools that he needs for the day, he was startled to find the white goose in one of those wooden receptacles! Vincent only peeked at the receptacle just to check it for the thing is locked and his keys are somewhere. Well looks like he is going to need to find that key now for the white goose which had been roaming around his area peacefully is trapped in it and it might get hurt in its struggle to escape. Escape players, want to help Vincent here find the key to that receptacle so he can get that goose out safely?
White Goose Escape is a brand new point and click animal rescue escape game from Games 2 Jolly.
Other games by -
Walkthrough video for White Goose Escape