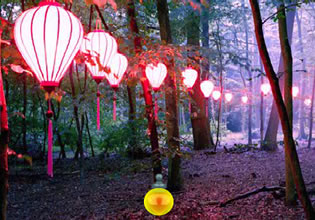 Thanksgiving Lighting Forest Escape
Try this fantastic wilderness escape here everyone. Thanksgiving Lighting Forest Escape is a brand new point and click outdoors escape game from Games 2 Rule. Enjoy!
Whenever there is an occasion, people living in the immediate area tend to decorate the forest in relation to the event. Like for example, they put-out pumpkins every Halloween, or when Christmas comes they decorate the trees with LED lights. That day, it was thanksgiving and instead of bringing-out their turkey standees, they instead placed lanterns which lined the place especially along the path. Albert was one of the decorators and it's his first-time in doing so there, that makes him quite excited.
The main area is already filled with lanterns and the last place to be is further down the remote trail, everything must be lit when the evening comes as he was told and unfortunately, Albert had a rough time putting-out them lights and he is also concerned of being lost in the place, for he was also told that if he ever gets lost in there, then it is not going to be easy getting out. But not totally impossible though, it's just hard after dark. Well when nightfall finally came, Albert did not expect that his fears will be realized and when that happened, he was alone! Escape players, Albert here definitely has a potentially serious problem and who knows if he is able to solve it or not. Well he must so care to join in with him and see if you can solve it too? Good luck then and be careful of the forest's terrain.
Other games by -
Walkthrough video for Thanksgiving Lighting Forest Escape