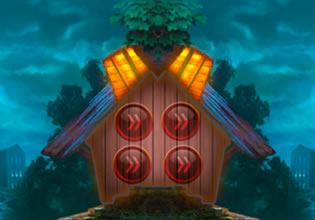 Skater Monster Escape
The only one that gives absolute joy to the always blue town here was this skater monster! His skating skills are absolutely fascinating and awesome, that's ironic though for his hair which runs all around his body is blue. You are friends with this monster and he is really cool, he doesn't give trouble to anybody and only gives good vibes which the youngsters there in the village can really relate to. That day though something happened to him, and as a person who observes him skating most of the day, you were the first to notice that he is actually experiencing a problem!
He is currently trapped in this house and at the moment he couldn't get out! This could also be his work for he might have accidentally entered there while doing a trick, and now he is locked in. You didn't really see the moment when this happened, so you can only guess here. Escape players, nobody can help him at the moment for there is nobody out except you. Will you be able to get him out of though and quickly too?
Skater Monster Escape is another new point and click house rescue escape game made by Games 4 King.
Other games by -
Walkthrough video for Skater Monster Escape