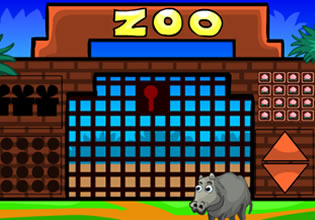 Escape From Zoo
There is a huge storm coming and that's why the staff there in the zoo are all scrambling to evacuate the animals for they expect this force of nature will bring a ton of water and it could flood this facility. Somebody already has the big cats now, as well as the different kinds of monkeys there, that's why Ezekiel is assigned for most of the birds for they haven't been prepped yet.
Ezekiel is now on the job in gathering the birds and he must be very careful with them, for they can fly and he cannot. He needs to get them out of their cages and deliver them outside of the zoo where a truck is waiting to bring them to a safe shelter. The storm is still too far yet, but they need to hurry for they still have a lot of things to get done. Escape players, imagine you are Ezekiel and you must begin the task given to you here and quickly. Find keys which can open cages and stay focused, for there are a ton of keys here and each opens a different door or enclosure.
Escape From Zoo is the newest point and click animal rescue escape game created by 8b Games and Games 2 Mad.
Other games by -
Walkthrough video for Escape From Zoo