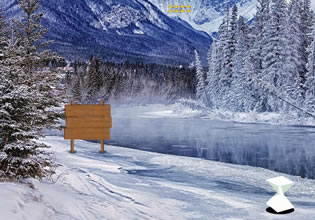 Save The Little Yeti
In this snowy land, there is a monster that lives in the place, but because it is perfectly camouflaged there thanks to its coat, it is very hard to spot and even hunt! This monster is a yeti and rumor has it that there are a lot of them there and people who lives in the place sees them from time to time. One of those people is Flavio who lives there of course, but that day he'll come face to face with them creatures of legend!
Flavio returned to the biggest cage amongst his traps which he deployed in various parts of the land just to check it, he is going to decommission it for now too for he has no use of it in this season. But as he got there, he saw what looks to be a baby yeti! Flavio could not believe what he was seeing, but there it was in his trap and that confirms the stories of this place here. Flavio decided to free this creature though and quickly, for this is a young one and its mother could just be nearby. Escape players, would you like to help Flavio with this then so he can get this done quickly?
Save The Little Yeti is a new point-and-click snowy wilderness creature escape game developed by WoW Escape.
Other games by -
Walkthrough video for Save The Little Yeti