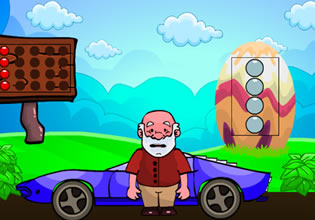 Save The Hungry Old Man 2
In the previous game, Wilmer was able to help the old man by giving him something to eat and drink and that was solved thanks to you escape players. This time though you will be joining another person who came across the exact same situation as Wilmer's! There was a man and he was hungry and needed help with his vehicle.
The person who found the old guy was Merle and he just got-out of his premises when he saw the guy struggling. Merle has a heart for the old folks, so he was going to help him with his car problem and also, maybe he can fetch something from the house and give it to him for the heat is sweltering today and he definitely needs something to drink. Escape players, you will now be playing as Merle here, will you be able to get something for the man so he'll have energy to fix his car?
Save The Hungry Old Man 2 is a brand new point-and-click rescue escape game from 8B Games and Games 2 Mad. This game is a continuation of the first one as its sequel.
Other games by -
Walkthrough video for Save The Hungry Old Man 2