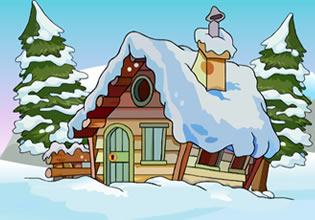 Rescue The Romantic Couple
Tourists come to this snowy land and it's even their peak season when the winter climaxes there. That's because different kinds of snow activities can be done in the land. There was this couple who took a cabin there and it's their anniversary, so they planned to stay there for a week. A couple of days had passed and no trouble came from whomever, that's good for everything was under control. Until a call came through and it was from this said couple for they seem to be having a problem with their house.
They are trapped in it! And even when they tried to get themselves out, they just couldn't and they need help now. Luckily you were overseeing this escape players and no other trouble was coming up from the other guests. But you need to solve this quick before another thing happens. Will you be able to free the couple from their house safely?
Rescue The Romantic Couple is the newest point-and-click house rescue escape game from Fastrack Games.
Other games by -
Walkthrough video for Rescue The Romantic Couple