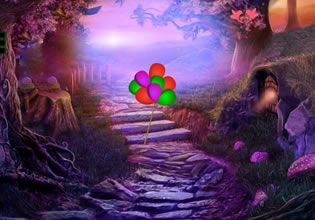 Romantic Bears Escape
The heart wilderness here is a forest of love, and probably of weirdness also for the place is kind of different than any forest anywhere. Al who goes there knows that all too well, the land is very different definitely, but he mostly lets that weirdness be for there is nothing he can do about that actually, and as always he is in the mercy of it when he enters there. That day it seems though, Al is going to do something for the forest and that is absolutely new to him.
Al found two bears and they seem to be trapped in some sort of heart-shaped bubble and they are struggling to get out from it! Al have never seen something like this here before, now he is deciding on what he'll do about this. Escape players, Al eventually chose to help the bears here but he is going to need some help as well. Will you be able to assist Al here in rescuing these two bears which was trapped in some weird thing?
Romantic Bears Escape is a new point-and-click animals rescue escape game developed by WoW Escape.
Other games by -
Walkthrough video for Romantic Bears Escape