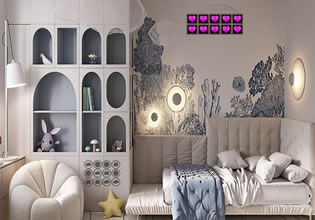 Peaceful Undyed House Escape
The house here is quite beautiful even when there isn't much furnishing materials put on it, its minimalistic look already suits it. Loren will take this place then for not only it fits her preferences, but also her budget. But it seems that the house has a little test for her and she must get through that before she takes the house for herself.
Loren is now trapped in the house and it's quite a mystery why this was happening, but Loren is a fighter and she took this as a challenge before she can live in the place. Escape players, you will now be playing as Loren here, will you be a greater fighter than her and escape with this situation she is encountering? Go ahead then and be careful not to damage anything in the place.
Peaceful Undyed House Escape is a brand new point-and-click indoor escape game from WoW Escape.
Other games by -
Walkthrough video for Peaceful Undyed House Escape