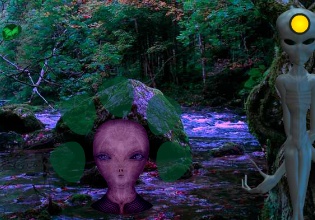 Alien Mystery (WoW Escape)
You used to live in the city. However, the hustle and bustle made you get sick easily. There was not a week when you won't stay in bed a little longer for not feeling well. You always have to be absent for a few days each month. And you didn't enjoy any of it. So you looked for a house somewhere outside the city. You found this house in the middle of the woods. It was just what you needed. Although it looked like a perfect setting for a horror movie, you liked it because of the silence surrounding it. You likewise didn't have any neighbors around. And you were not sure about the creatures living around your area. Still, you bought the house and you were on the process of renovating it to better suit you. You were already sleeping in your house while work was going on.
Then one day, while waiting for the workers to arrive, you walked around the house. You saw a path leading somewhere. Since you have nothing to do, you followed the path. It led you to the deeper part of the forest. Then something made your hair stood up and you could smell weird stuffs. You got curious so you looked around some more only to discover that aliens inhabited the area. Play Alien Mystery (WoW Escape) outdoor escape game by WoW Escape.
Other games by -
Walkthrough video for Alien Mystery (WoW Escape)