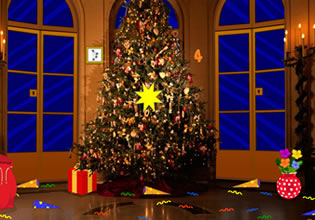 Christmas Party House Escape (Wow Escape)
The Christmas party is the tradition that you have in your family. Every year, you all meet at your grandfather's house. In there, you peacefully celebrate Christmas together. It's always a good time because there's nothing you have to do but reminisce about the good times. However, things have changed since the new generation came in. They want to have a theme and loud music is all you can hear around the room. You just want to go back to the old tradition but you don't want to spoil the moment. You came to eat dinner but you didn't plan to stay for too long.
However, the door won't open. You are too shy to ask for the key so you have to find your own way to escape from the Christmas party house. Good thing that there are clues that can help you out. However, there are some puzzles that you have to solve before you can finally escape so you have to use your logic to escape successfully. You also have to gather objects that you can use to open the door. Christmas Party House Escape (Wow Escape) is the newest room escape game from WoW Escape. Good luck!
Other games by -
Walkthrough video for Christmas Party House Escape (Wow Escape)