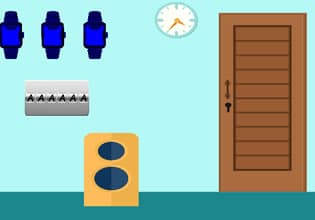 Office Boy Escape
Clyde was ready for work now and he should for there is a lot of work he left yesterday and it already drained him, if he doesn't bring in the enthusiasm, then the day's job will definitely drain him even more. And so Clyde limbered-up to ready himself for the day, but little did he know even his own house has something for him and it's a challenge.
Clyde went out of his room for he was ready to leave, but there was a problem and as he discovered, he could no longer get outside of his house mysteriously! Clyde couldn't open his doors anymore and it's kind of weird for he didn't do anything, but now this is happening. Clyde is going to have to destroy his door here so he can get out. Well there could be another way here and escape players, you might have the skills to solve this. Escape players, there is still a little-bit of time here for Clyde, that means tinkering with his door here in a way that it won't get damaged is still possible. Will you be able to help him here so he can get out of his house and find-out what's happening there?
Office Boy Escape is a brand new point and click indoor escape game from Games 2 Escape.
Other games by -
Walkthrough video for Office Boy Escape