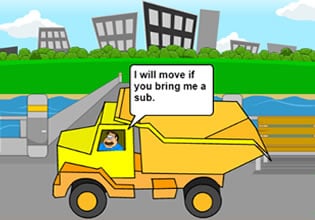 New Hampshire 2022
Clyde just woke-up and found himself on the streets of New Hampshire! Okay, he doesn't want to be here and this happening had really been like magic, well actually he is moving from city to city now and just aimlessly for he thought he might eventually find where he is suppose to be. So the day before he secretly hid on the side of a trailer truck and rode wherever this vehicle will take him, he fell asleep on the journey and when he woke-up the next day, there he was where he is now. Okay, guess he must move on and he is going to need another ride but this time not secretly. Lucky for him there was this guy near him who will help.
Clyde came across a person there in the parking-lot where he was and he said he'll take him to the next state, but he'll have to need something and he asked Clyde to pick that for him first. Clyde accepted for he really needs that ride here, so escape players will you help Clyde with what he needs to retrieve so he can get that free ride?
New Hampshire 2022 is a brand new point-and-click item retrieval escape game from Selfdefiant.
Other games by -
Walkthrough video for New Hampshire 2022