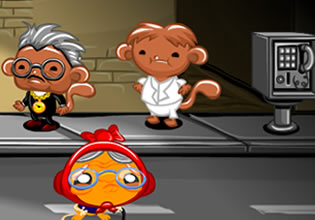 Monkey Go Happy – Stage 669
There was this place in monkey planet which was celebrating labor day, they have a rather weird tradition there like individuals bonking each other in the head lightly with a blunt object. That's weird but that is not the concern of the monkey operative who arrived there, for they detected stress-levels in the area and it's everywhere.
Escape players, the operative there who responded is an old lady and she shouldn't be underestimated, but she still welcomes help though. The mini monkeys are now starting to show-up in the streets. The operative must work quickly so, will you help her in collecting the mini-monkeys there so that this event won't be sabotaged by them?
Monkey Go Happy – Stage 669 is the newest point-and-click retrieval game created by Pencil Kids. This game is a continuation of the previous one as its sequel, and is a part of the first game as the start of the series.
Other games by -
Walkthrough video for Monkey Go Happy – Stage 669