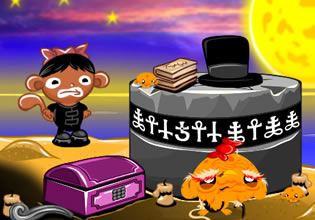 Monkey Go Happy – Stage 667
There was a stress signal coming from this beach in monkey planet and it's in a different coastal area prior from the previous operation. As the operative arrives there, he noticed something weird, there were a bunch of individuals there dressed weirdly and they seem to be fulfilling a ritual or some sort. They are obviously stressing due to the mini-monkeys that are there which the operative also sees, he cares about that and not whatever is happening there though, so he must do his job.
Escape players, the operative is now going to retrieve them mini-monkeys for that is the task there, for if they don't then this place is going to be overrun by them. Will you be able to help the operative that's there then so that this task can be done and he can return soon?
Monkey Go Happy – Stage 667 is the newest point-and-click retrieval game created by Pencil Kids. This game is a continuation of the previous one as its sequel, and is a part of the first game as the start of the series.
Other games by -
Walkthrough video for Monkey Go Happy – Stage 667