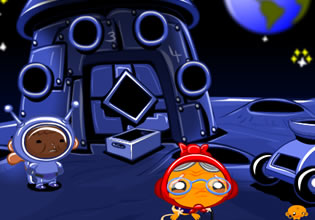 Monkey Go Happy – Stage 649
The monkey operatives HQ is on planet Earth's moon at the moment, that's because there is a weird machine there which was sputtering and what caused that failure is of course them mini-monkeys! That machine is rather sensitive and absolutely dangerous, for a serious wrong with it while it is in operation could destroy the entire solar system here! That is how powerful that machine is. Wonder why something like that was even on the moon?
Escape players, the monkey operatives have now seek the help of the monkeys from monkey planet for the machine is rather primitive for them. But they have a job to do still, and that is to retrieve the jumping mini-monkeys there which are causing the problems. Would you like to help there then? Quickly, before those small things do more damage to that machine there.
Monkey Go Happy – Stage 649 is the newest point-and-click retrieval space escape game created by Pencil Kids. This game is a continuation of the previous one as its sequel, and is a part of the first game as the start of the series.
Other games by -
Walkthrough video for Monkey Go Happy – Stage 649