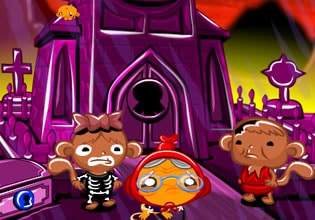 Monkey Go Happy – Stage 575
Monkey planet is also celebrating Halloween! That's weird, even the monkey operatives are confused for they know Halloween is an event exclusive only to Earth. Guess in the universe anything is possible, but the operatives are not in the area to celebrate however, for they have caught a signal once again coming from this neighborhood which was heavily decorated with the spooks! Even the residents there are wearing costumes of so, but they are clearly stressed for as predicted, them mini monkeys are there as well.
A monkey operative have already been sent to the area and it's grandma operative. She looks frail and weak but do not underestimate her, for she is very intelligent and absolutely persuasive, her body is not what it's used to be but still she can do a pretty good job in gathering those little menacing things. Escape players, would you like to help granny monkey operative here in collecting them mini-monkeys and quickly? She needs a little help here so that this task can be thorough. Look into every place there and do not even leave just one of them free.
Monkey Go Happy – Stage 575 is the newest point and click retrieval escape game created by Pencil Kids. This game is a continuation of the previous one as its sequel, and is a part of the first game as the start of the series.
Other games by -
Walkthrough video for Monkey Go Happy – Stage 575