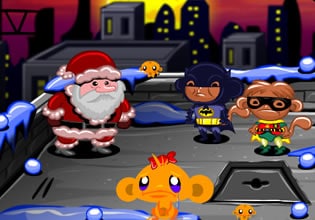 Monkey Go Happy – Stage 591
At the moment, monkey operatives are catching signals coming from a city in a place in monkey planet there, so they sent an operative to check it out. When the operative arrived there, he saw that there was Santa on top of a building and at the moment he seems to be having a snowball fight with two others, and that's judging from the snowballs beside them. But they are not moving right-now and are only watching the menacing mini-monkeys around them!
These little guys are the source of the three's stresses here, and because these things are too agile and can only be dealt with by the monkey operatives, they couldn't do anything about them. But fear no more though, for the monkey operatives are to the rescue. Escape players, want to help the monkey operative here as he collects them mini-moneys before they multiply uncontrollably and cause chaos in the city here?
Monkey Go Happy – Stage 591 is the newest point and click retrieval escape game created by Pencil Kids. This game is a continuation of the previous one as its sequel, and is a part of the first game as the start of the series.
Other games by -
Walkthrough video for Monkey Go Happy – Stage 591