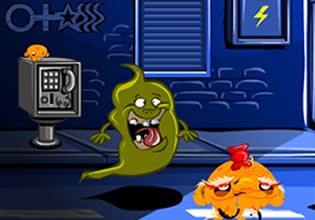 Monkey Go Happy – Stage 567
The monkey operatives are called again for a signal is coming from a location, once again it's in one of the cities of the lesser monkeys for there are mini monkeys in the place which are causing some issues with the residents there. They have just done something very serious which is now bringing down a huge risk among the populace! The mini monkeys wreaked havoc on a lab there and they tripped on something which released a giant monster of some sort, and it was now lumbering into the city! Now this is two problems at once happening in the city there, now the monkey operatives must help on that as well.
Escape players, the monkey operative that had been sent there have a main job of collecting mini-monkeys, first he must do that and then help-out on the monster. Will you help-out on this tasks as well so that these can be done quickly to lessen some damages?
Monkey Go Happy – Stage 567 is the newest point and click city escape game created by Pencil Kids. This game is a continuation of the previous one as its sequel, and is a part of the first game as the start of the series.
Other games by -
Walkthrough video for Monkey Go Happy – Stage 567