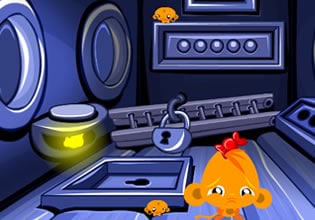 Monkey Go Happy – Stage 515
As the monkey operative was wrapping-up on the situation, one of the operatives' sensors detected something and it was from a different part of the world. As soon as they received the signal, the operative who was available was immediately sent and the one who just finished on his mission was beamed-up to rest. The new situation was in a very narrow river channel and at the moment, a boat is stuck in there! The boatmen are really distressed, for there is absolutely no way they can budge the vessel free, and to top the problem off there are now mini monkeys on board the boat and they are of no help at all!
Of course they will be of no help, for they are menacing and multiply indefinitely as well as quickly. It's a good thing a monkey operative is in there now, but it is going to need some help for there seems to be more work that needs to be done there. Escape players, will you give the operative a hand here collecting the mini-monkeys and maybe free the vessel right after?
Monkey Go Happy – Stage 515 is the newest point and click retrieval escape game created by Pencil Kids. This game is a continuation of the previous one as its sequel, and is a part of the first game as the start of this series.