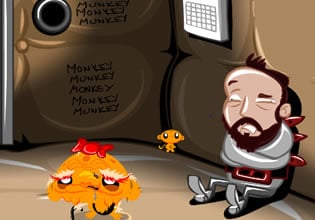 Monkey Go Happy – Stage 513
The asylum is currently under infiltration by them mini-monkeys and everyone in the complex is in a panic right-now! It is unfortunate enough that the patients there had to deal with their mental problems, and now this? The mini-monkeys are quite the little guys too for they are really causing some stress levels to the people there! Well it was enough for the monkey operative's sensors to detect it though, for when they had it, they immediately sent an operative to the area to check the place and as they found it, it was indeed overrun.
The operative was an old one, but never underestimate this guy, for he had been to many of these missions equally mild to nightmare! But he is still going to need some help though for they are a lot of them now, and as a first place to do this is where he was teleported and it's the most of the stress levels are coming from. Escape players, the operative have been transported to someone who is in solitary, the guy inside it seems very confused now, will you help the operative here collect the mini-monkeys and then move on to the next room?
Monkey Go Happy – Stage 513 is a brand new point and click retrieval adventure escape game released by Pencil Kids. This game is a continuation of the previous one as its sequel, and is a part of the first game as the start of the series.