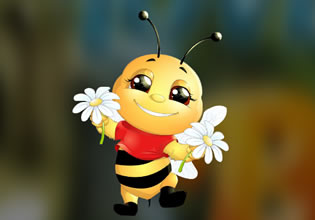 Lovely Bee Escape
Werner had already lost track of how many fascinating animals lives in the town where he also lives, but one just catches his attention always though. As an animal lover, Werner always gives animals special attention, but as said the only one that was even more interesting to him was this lovely bee. It is an animal, but it has expressions closely resembling a human's! It's weird, but Werner continues to study it still. That however, is going to prove very advantageous to the bee, for that day it got in trouble and it needs help!
Werner was the first to notice it obviously, the bee is trapped in one of the houses there and it was struggling to escape. Escape players, Werner will of course rescue it, but he is not much of a person who does break-ins though, so will you help him with the rescue for the bee then?
Lovely Bee Escape is another new point-and-click animal rescue escape game made by Games 4 King.
Other games by -
Walkthrough video for Lovely Bee Escape